L

et's

G

et

P

ersonal

My name is Mary Ellen Young and I have been operating Young Care Family Child Care in my Bowie home since 2000.  My passion for young children and their development began when, as a young mother, I decided to care for others' children so I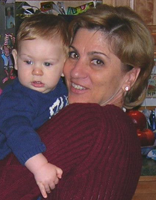 could afford to stay home with my own.  I was a registered provider in Hyattsville for 12 years where I raised my children.  
I hold a BA in Early Childhood Education and Special Education. Young Care has been a Nationally Accredited program through the National Association for Family Child Care since 2005. As a Maryland EXCELS participant with a Check Level 5 and a Maryland Child Care Administrator Credential Level 4, Young Care is recognized as a quality childcare program. As a lifetime learner, I continue to pursue professional development. I strive to stay current in my field and am forever curious and always interested in improving myself and my program. As an advocate for children and families, I belong to and participate in local, state and national associations that focus on important issues surrounding the development and education of young children and support the needs of them and their families.
As a teacher and child care professional, I value the relationships I develop with the families of the children in my care.  When appropriate, I endeavor to inform and share information concerning family, education, and child care related issues.  I truly believe the success of a child's developmental journey is dependent upon a strong working partnership between the provider and the family.  Every child and family that joins us at Young Care soon weaves their way into the fabric of our little community, quickly becoming part of the Young Care Family.  I am happy to say that I remain in contact with many of my former child care children and families.  These connections are lifetime relationships I value and hold dear to my heart.